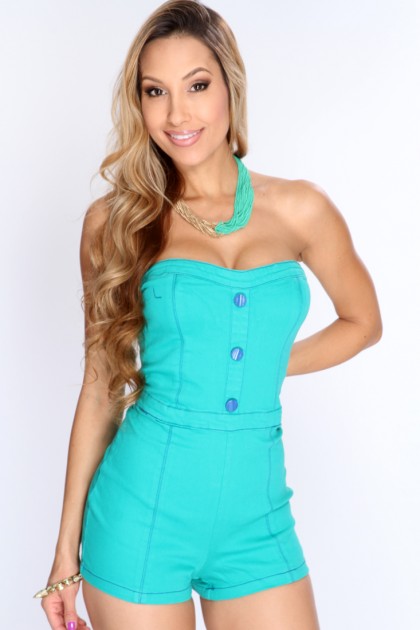 Strapless Rompers
Strapless rompers are perfect for the ladies having slender toned arms, shoulders, back and legs. They make you feel comfortable with no stress of straps on your tender skin. At the same time, it allows ample opportunity to show your sensual side.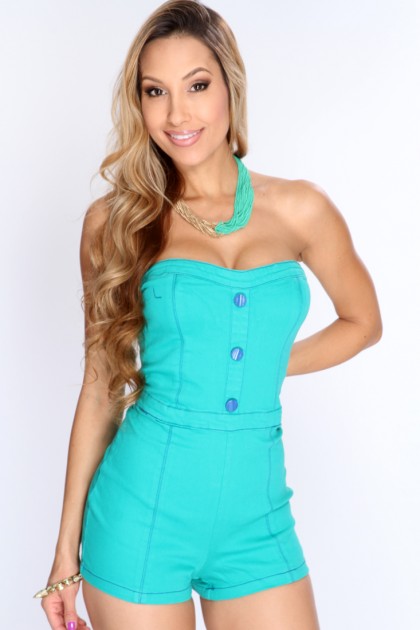 Collection of Strapless Rompers
Flaunt an edgy casual look with these simple strapless rompers. They come with elasticized necklines, waistlines and a couple of front pockets. Accessorize with your favorite gem t-strap flats to complete the look.

Ooze confidence in this bold jade button-up romper. It is zippered at the back, got a crisp stitch detailing and is fitted.

This chic chambray romper is fitted with perfecting elastic along the waist and at the back. Decorative buttons dotting the front make for a sassy look.

You will crave to add this cute white romper to your wardrobe. It boasts of button and stitch detailing, elastic waistband, string tie, buttoned front pockets and side pockets. This piece is sure to get you noticed.

Accessorizing the above romper outfits with light jewelry and color co-ordinated bags is sure to get you noticed. Give your summer look a bold edge with these charming romper designs.
YOU MAY ALSO LIKE