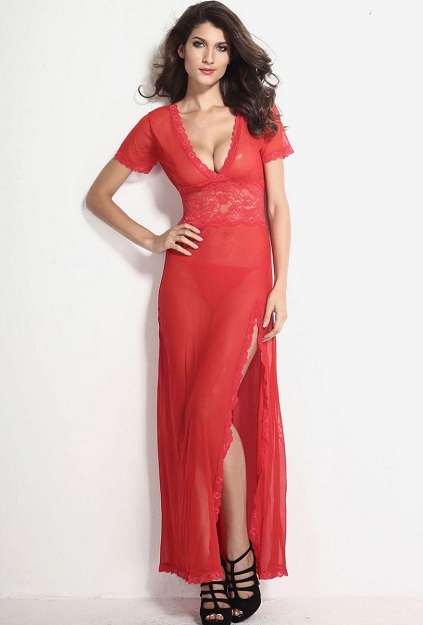 Lingerie Gowns
If you are in the mood for an exhilarating evening enrichened with comfort and luxury, the lingerie gown is the way to go. Be prepared to look irresistibly scintillating adorned in the epitome of the night-time fashion wear, designed in a host of materials including sexy sheer, lovely lace, comfy cotton and so on. Paired up with a matching set of a sizzling two-piece and a pair of sizzling high heels or homely flats as you desire, it is the ultimate bedtime debauchery. If this isn't the quintessential sensual wear, then what is?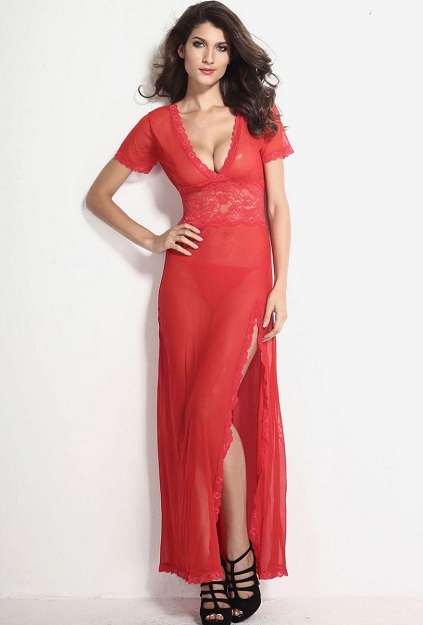 Collection of Lingerie Gowns
If you have your heart set on being the perfect embodiment of THE Wedding Night Bride, look no further. Combine it with a  pair of silver or white heels. diabolical nude or red- lipstick and gear up to beguile the unsuspecting Groom forever.

This satin lingerie gown is as good as it gets. With its absolute minimalism and flawlessness, this could be the night-time attire of the Gods.

This powder blue satin lingerie gown might just bestow you with the aura of both a surreal fairy and an elusive seductress. The long slits and the accentuated bust is is so indulgent, that it is frowned upon by the Gods.

Enchant all who dare to behold you sporting this sinful side-slit sheer red lingerie gown! Combine it with red, golden or even black stilettos and red lip-gloss and look unfathomably enticing.

With its plunging neckline and compelling short length, this short lingerie dress is the ultimate tease. Tightened at the waist, paired up with appealing sandals and hair pulled up in a messy bun- and you'll be your enticing best!

This oh-so- naughty violet lingerie gown where sheer and satin combine in an amorous union goes perfectly with a pair of silver pencil heels. This is the go-to dress if you wish to limitlessly enhance your allure.

This sheer white, long lingerie gown is sheer beauty- coupled with elegance. Regardless of the time, this gown can be the perfect fashionable comfort wear throughout for a relaxing day off at home.

This sheer lingerie gown is mischief redefined. The floral lace-work down the middle makes it all the more enticing while the shape compliments your body like a second-skin.

This purple lace lingerie gown was invented for the woman blessed with soft curves and agreeable bustline. Match it with some golden minimalist jewelry and be the venerable object of envy as well as affection.

This purple satin body- hugging gown is what dreams are made of. It is stylish, breathtakingly gorgeous and once you let your hair down and heels up- it gives you a diva-like feeling.

Casual as it looks, its plainness is what makes it so desirable. This ethereal white satin gown is perfect for a comforting night under the sheets. No make- up, no jewelry, just comfort, fashion, the night, and you!
YOU MAY ALSO LIKE